Topmart Pet Staircase Lightweight Plastic Version Extra Wide Type
Regular price
Sale price
$46.99 USD
Unit price
per
Sale
Sold out
DESCRIPTION

Topmart 3-layer widened plastic pet steps/dog stairs - very light and comfortable! It's perfect for pets under 50 pounds. Lightweight, portable, non-slip surface ensures stability and safety. Make sure your pet reaches its destination easily and comfortably. Invest in their happiness today!
SPECIFIC

【Product Size】:
The dimensions of the plastic dog stairs are:
3-Tier Dimensions: 17.7" L, 16.7" W, 12" H.
4-Tier Dimensions: 24" L, 17" W, 16." H.
[Soft anti-slip cover]
The cover is made of artificial cashmere fabric, which has stronger friction and is softer than ordinary cloth covers. The back is equipped with 6 anti-slip small round pads, so pets will not fall due to sliding when walking around.
【Easy to assemble and clean】
It is assembled from one-piece plastic and can be installed with just one click without any tools. One-touch removable, washable cover, machine washable.
[Portable and compact]
The Topmart Dog Staircase is made of high-strength plastic and weighs only 3.75 pounds, making it portable so you can easily move it to where you need to use it. It can support up to 50 pounds, and we recommend it for pets weighing less than 25 pounds due to issues such as deformation, pet safety, and more.
【Extra gift】
Lint rollers remove hair, dust and lint from sofas, beds and clothes.
PRODUCT DATA


3-Tier Dimensions: 17.7" L, 16.7" W, 12" H.

4-Tier Dimensions: 24" L, 17" W, 16." H.
SHIPPING INFORMATION

You have the right to regret your purchase within fourteen (14) days from the day you received the product, free of charge. Items returned after 14 days of receiving the delivery will be sent back to the customer. Return labels are only provided for the original purchase.

RETURNS: If you should receive a damaged product, you are welcome to return it free of charge and receive a full refund.

EXCHANGES: Please note that we do not offer free returns if you wish to exchange your item for another item. Please note, we do not refund shipping fees.
Latest activities
View full details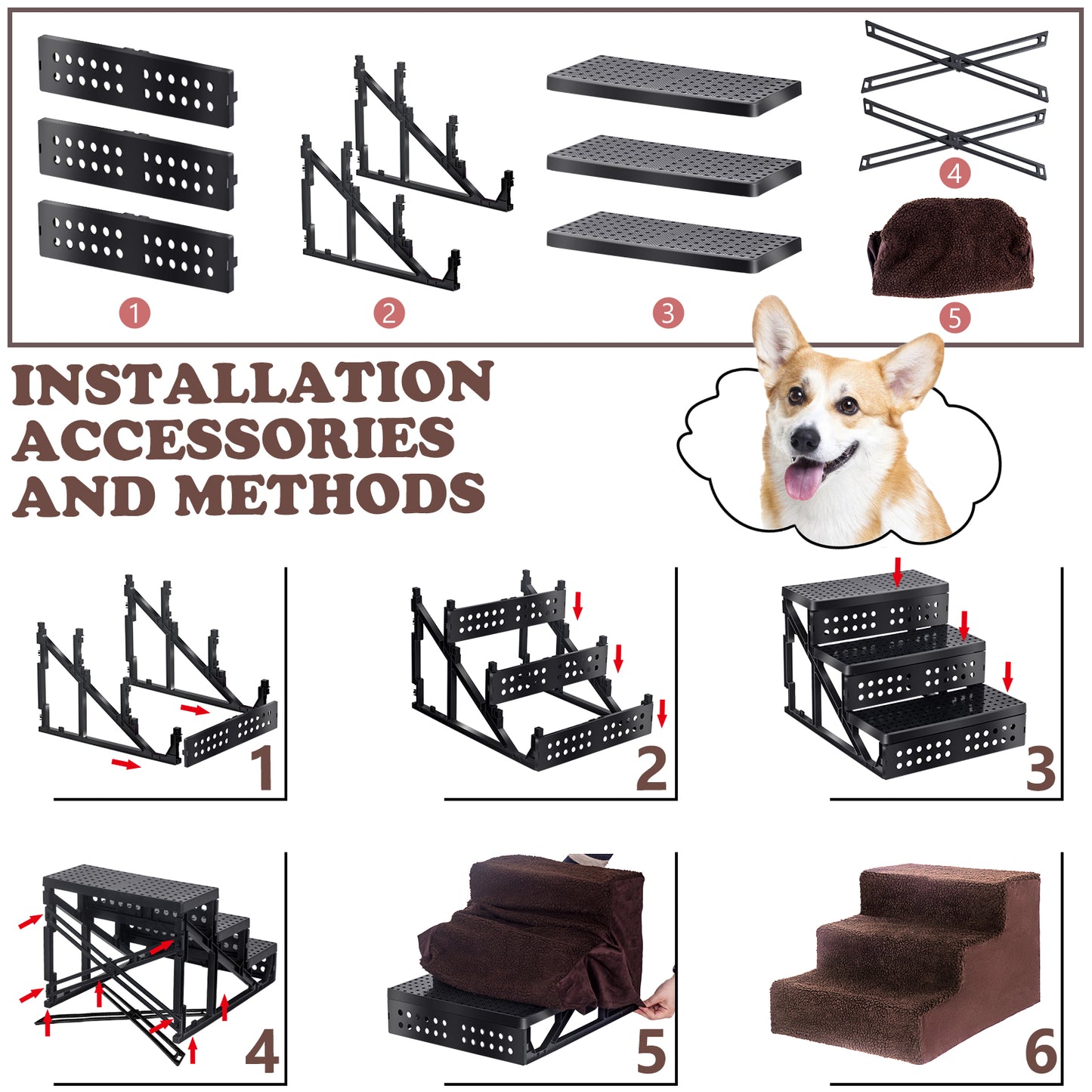 Member Points
Welcome to the TOPMART official website. We are happy to meet valued customers like you here. To express our gratitude, we have prepared an exclusive offer for you.

By joining TOPMART, you will have the opportunity to earn points with every purchase you make. You'll earn 1 point for every $1 you spend. These points can be redeemed for vouchers, with 100 points equivalent to a $1 voucher.

Imagine the possibilities! When you purchase your favorite pet stairs and ramps, you can accumulate points and redeem them for discounts on future purchases. This is our small way of giving back to amazing customers like you.


Don't miss this great opportunity to celebrate with us and enjoy exclusive offers. Visit our website today to take advantage of our buy one, get one free offer, as well as the chance to earn points and redeem coupons. Thank you for being part of the TOPMART family and we look forward to serving you even more in the future.